Al Saa Beauty Salon:
Al Saa ladies is a trained professional salon with over 12 year of experience with a good Hygiene and safeties standard. Communicating with our salon staff about their choices, work experience, behavior's, unimaginable incident , Best client and Favorite service is build the trust and ensure a satisfying experience. Whether you're seeking a routine grooming session, preparing for a special event, or simply looking for a services, Al Saa salon services can help you achieve your desired look and feel.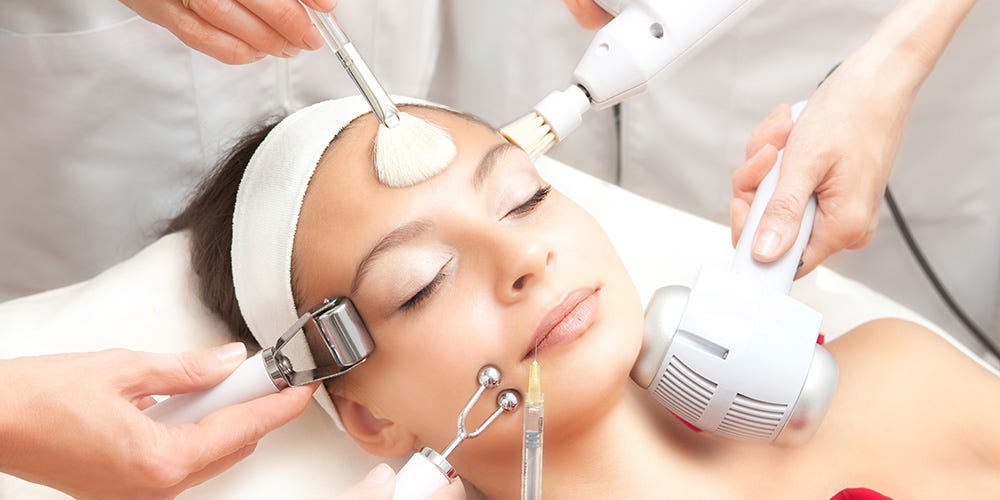 Top 5 beauty Salon treatment:
Automated pen microneedling

Skin peels

Dermaplaning

LED – Low level light therapy

Radiofrequency

Microdermabrasion

Ultrasound

No needle mesotherapy

Photorejuvenation (IPL)

Laser hair removal
Make Up:
At Al Saa Beauty salon, we take great pride in offering professional and exceptional makeup services. Our team of experienced makeup artists understands the importance of makeup in enhancing your natural beauty and boosting your confidence. Whether you are getting ready for a special occasion or just want to treat yourself to a glamorous makeover, we have got you covered.
Our makeup service begins with a personalized consultation to understand your preferences and expectations. We believe that every individual is unique and should have a makeup look that reflects their personal style. During the consultation, our makeup artist will discuss different makeup techniques, colors, and styles that will best suit your face shape, skin tone, and features.
We use only high-quality and cruelty-free makeup products to ensure that you not only look stunning but also feel good about what you are putting on your skin. Our extensive range of makeup products includes foundations, concealers, powders, blushes, eyeshadows, lipsticks, and much more. Our makeup artists stay up-to-date with the latest trends and techniques in the industry, ensuring that you receive a modern and flawless makeup application.
Whether you prefer a natural, radiant look or a bold and glamorous one, our makeup artists are skilled in creating a variety of looks to suit your preference and the occasion. From soft, glowing bridal makeup to bold and dramatic evening looks, we can transform you into the best version of yourself.
Our makeup service is not limited to just special occasions. We also offer everyday makeup application for those who want to add a touch of elegance and confidence to their daily routine. Our makeup artists will enhance your natural beauty, making you look fresh and polished for any occasion.
In addition to traditional makeup application, we also offer airbrush makeup services. Airbrush makeup provides a lightweight and seamless finish, giving you a flawless complexion that lasts all day. It is perfect for weddings, photoshoots, or any event where you want your makeup to look perfect from morning till night. Our makeup artists are trained in the art of airbrush makeup application, ensuring a smooth and natural-looking result.
We understand that makeup is not just about the end result, but also about the experience. Our team is committed to providing you with excellent customer service, making you feel comfortable and relaxed throughout the entire process. We strive to create a warm and inviting atmosphere, where you can sit back, relax, and let our makeup artists work their magic.
So whether you need makeup for a wedding, prom, date night, or any other special occasion, our salon is the perfect place for all your makeup needs. We are passionate about creating custom and personalized makeup looks that will make you feel beautiful and confident. Book an appointment or Send Message with us today and let us bring out your inner beauty with our exceptional makeup services.
Summary:
In summary, Our Salon are an integral part of the beauty industry, offering a wide range of options to enhance their appearance, express their unique style, and boost their self-confidence. Al Saa Beauty ladies salons provide a many of services, including makeup application
,
skincare treatments, hairstyling, nail art, Wellness center, Laser Therapy, Massages and Wide range of
products
.
Such services go beyond just surface-level that changes; the thinking towards Beauty
Al Saa salons offer not only physical transformations but also gives you a emotional benefits. A well-designed and executed makeover or a relaxing skincare treatment can help individuals feel more confident, and ready to tackle life's challenges. Our skilled artists and estheticians have the expertise to tailor the services to each client's needs, that ensuring a personalized and satisfying experience.
However, it's important to consider certain aspects when engaging with beauty , makeup salon and many services. Al Saa Priority is the best hygiene and sanitation to prevent any adverse reactions or infections to your skin. Additionally, communicating with the our salon professionals is key to conveying your preferences, concerns, and any allergies ensures a safe and tailored experience.
As the salon industry evolves, there's a growing trend towards inclusivity, diversity, and sustainability. Our salons are embracing a wide range of service standards and offering products and that are environmentally friendly and ethically sourced.
In conclusion, Our salon services offer a space for individuals in self-care, artistic expression, and confidence-building. Whether it's for a special occasion, a routine grooming session, making reels or a transformative makeover, these services contribute positively to one's overall sense of well-being and identity.